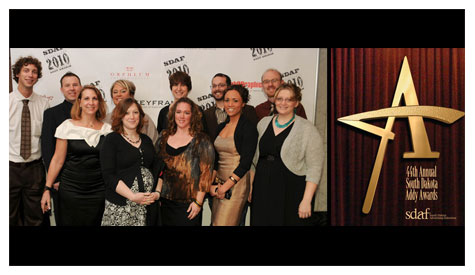 Insights:

Another great year at the ADDY Awards
The South Dakota Advertising Federation held its 44th annual ADDY awards show on March 6, 2010.
The new venue (the Orpheum Theater in Downtown Sioux Falls) was great! It was a nice setting for viewing the best of the best advertising and marketing work done over the past year.
I look forward to this event every year, because we always walk away with renewed inspiration to do great design, and also a feeling of accomplishment for recognition of the great work we've done. And it's good for at least one date night out of the year. 🙂
Insight was proud to receive a number of awards this year. Final totals show 16 silvers, 8 golds, and 2 Best of Class (Advertising Industry Self Promotion and Elements of Advertising) trophies. Click here for a full list of winners for the night.