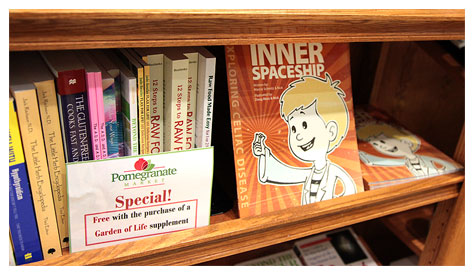 Insights:

New children's book is now on shelves
The children's book that Doug illustrated last summer is now published and for sale at local stores.
Nick and The Shrinking Inner Spaceship is an exciting tale about a six-and-three-quarter-year-old scientist who has celiac disease and his quest to better understand what that means. The story and illustrations will engage children, but the purpose of the book is to explain in a non-threatening way how celiac disease affects the body, and how the condition can be controlled through diet.
And for kids without celiac disease, the story's quirky, sci-fi premise will still be entertaining.
The book was the idea of Nick Schmitz and his mother Marcia. When Nick was 6 years old, he was diagnosed with celiac disease. That diagnosis lead to a big change in Nick's eating habits – a change that made Nick feel a lot better. When Nick understood how the disease affected his body, he and his mother thought a book would help other kids understand how celiac disease affected their body.
Doug has illustrated several other children's books, but never one about health issues. "This was an interesting challenge. Nick's fascination with science made for a great story and some really fun illustrations."
The book is currently on sale at Pomegranate Market in Sioux Falls and will soon be available online. One dollar from the sale of each book will be donated to the National Foundation for Celiac Awareness.