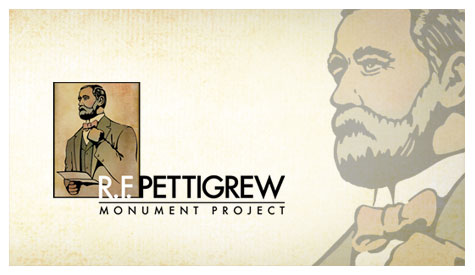 Insights:

Honoring Pettigrew's Legacy to Sioux Falls
When the Minnehaha County Historical Society and sculptor Darwin Wolf decided to create the R.F. Pettigrew monument, part of the reason was to vindicate Pettigrew's legacy to Sioux Falls and the state.
"He was an enigma," said Wolf. "He was labeled a malcontent by the Washington establishment and was ostracized for his refusal to be bought by the Industrialists of the early 20th century. Fifty years in public service earned him scorn and ridicule, and many of the people he fought for believed the lies."
Wolf said that even today it isn't hard to find local historians who tout him as a hero or those who bristle at the mention of his name; middle ground is very hard to find. "If ever there was a man in need of vindication, it's Pettigrew."
Wolf is in the final stages of sculpting a 10-ft bronze monument of Pettigrew. The monument will stand at the entrance to Falls Park. Insight is assisting Wolf to secure $94,000 in funding for the bronze casting still to be done.
The fund drive kicks off with the Pettigrew Monument Pour Event on Friday, October 7 at Cherapa Place. The wine and hors d'ourves event includes an exclusive evening bronze pour at the BronzeAge Art Casting foundry just east of Cherapa. Tickets are $40, with proceeds going to help support the Pettigrew Bronze project.
Learn more about the project and get updates on Facebook: http://www.facebook.com/pages/R-F-Pettigrew-Monument/223411884365225