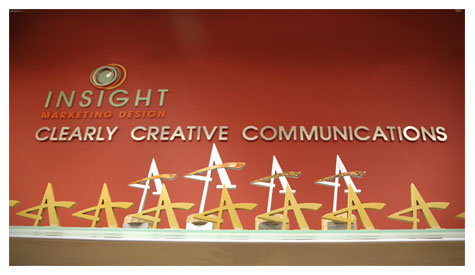 Insights:

Insight brings home Best of Show ADDY
The 46th Annual ADDY Awards were good to Insight Marketing Design. Our agency took home Best of Show in Print for Nick and the Shrinking Inner Spaceship, a children's book about celiac disease.
We also received Best of Class awards in Advertising for the Arts for a non-traditional media campaign created for Sioux Empire Community Theatre, a Best of Class in Logo Design for Wilde Prairie Winery, as well as a Best in Class for Book Design for Nick and the Shrinking Inner Spaceship.
In addition, nine gold ADDYs and twelve silver ADDYs were awarded to Insight for work created for the following clients: Kilian Community College, Midco Connections, Office Peeps, the Pettigrew Monument Project, Security First Bank, the South Dakota Department of Labor, as well as self-promotion work developed for Insight.
So, another ADDY Award show is in the books, and it's time to thank the people who contributed to Insight's excellent showing this year.
First, thank you to all of our clients who allow us to create award-winning work. And thank you to Insight's team of creatives — the people who concept and develop advertising work that is truly outstanding. And finally, thank you to the South Dakota Advertising Federation's board and ADDY committee for the hours of volunteer time it takes to put on a first-rate award show.