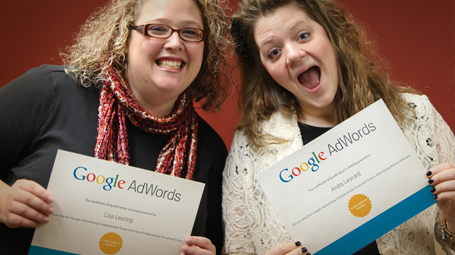 Insights:

Insight Team Members Achieve Google Adwords Certification
Insight Marketing Design's Google certified team recently doubled in size when Lisa Leuning, Digital Project Manager, achieved Google Adwords Certification. Lisa joins Andi Leonard, Media Coordinator, who became certified in February.
In order to achieve Google Adwords Certification, Leuning and Leonard each scored at least 85% on the Google Advertising Fundamentals exam and 80% on the Advanced Search exam. The Fundamentals exam ensures that practitioners understand AdWords and online advertising, including account management and the value of search advertising. The Advanced Search exam focuses on best practices for managing AdWords campaigns.
Leonard and Leuning work together to develop digital media plans for Insight Marketing Design's clients. As the digital project manager, Leuning analyzes and recommends copy and keyword strategies. Leonard, media coordinator, develops search engine marketing campaigns and places the media. Together they monitor and optimize the campaigns, and then provide monthly campaign reports and recommendations to Insight's clients.
Insight Marketing Design's expertise with Google AdWords provides another method with which we can assist clients in:
Maximizing return on investment
Generating new leads
Acquiring new business
Advertising in Google's Search and Display Networks 
We also offer valuable performance reports, such as keyword metrics and conversion tracking reports, to ensure that our clients' Google-based marketing efforts are as effective as possible.
Contact Us today to see how we can help your company with digital advertising in the Google Adwords Networks.