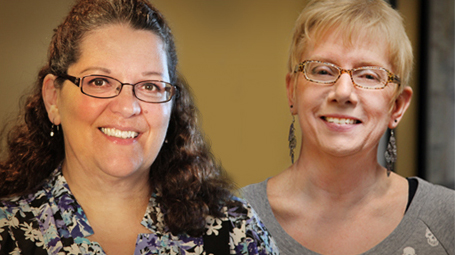 Insights:

Insight hires media director and bookkeeper
Insight Marketing Design is excited to welcome two new team members.
We are always looking for the best in the business, and we feel we've certainly accomplished that with our latest hires.
Gaye Grider is now Insight's Media Director. She is an agency veteran with many years (I was warned not to use the exact number of years) of experience in both media planning and buying. Her proven ability to plan and place strategic regional and national media plans is sure to be a great asset to our clients. Gaye also has a background in copywriting and editing which will add additional firepower to our creative department.
Lori Severson has joined our agency as Bookkeeper and Office Manager. Next time you call Insight, chances are Lori will be the pleasant voice answering the phone. As Insight's bookkeeper, Lori's primary responsibility is to manage the company's financials, AR/AP, sales taxes and other accounting duties. Before joining Insight, Lori provided support services for real estate agents, so we know she'll make you feel right at home when you visit our office.
In the marketing/advertising business, our biggest asset is the people who make up our agency and with Lori and Gaye joining us, we feel we are truly positioned to provide out clients even greater results.