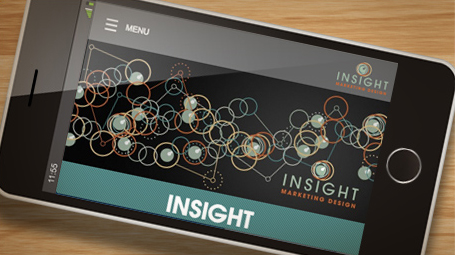 Insights:

Insight Launches New Agency Website
Internet years are like dog years.
With the speed of new technology development and design approaches, one Internet year is like seven regular years. As a marketing agency, website design and development is a major part of the services we provide our clients.
In addition to digital marketing campaigns, online videos and social media initiatives, we design, write and code dozens of new websites every year. This year we actually made some time to create a new Insight Marketing Design agency website.
Our new Advertising agency website utilizes the most forward-looking features, including responsive design, CSS3 Animations (movement on the website) and advanced way-finding architecture for the Best User Experience.
Another big factor in the success of any website is Search Engine Optimization (SEO). While it may not be apparent at first glance, our new website and the websites we build for our clients are created to provide the optimal visibility to search engines, allowing for higher ranking and more visits from potential customers. 
We invite you to visit our new agency website, take a look around and let us know what you think. In fact, (warning: shameless blog plug) you should visit every week if only to read this blog. Sign-up to receive notification a new blog has been posted below.