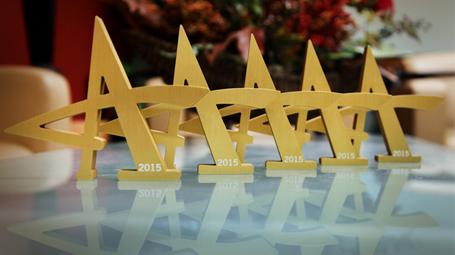 Insights:

Marketing Insights: Insight wins at the ADDY Awards
While most of the world was focused on that little award show in Hollywood called the Academy Awards, the real action was taking place in Sioux Falls, South Dakota. This year, the annual South Dakota ADDY Awards took place on the same weekend as the Oscars.
The mission of the American Advertising Awards (ADDYs) competition is to recognize and reward the creative spirit of excellence in the art of advertising.
So like the Oscars, the ADDY Awards salute creative individuals who produce interesting and attention-getting work. Really, the only difference (besides the size of the budgets and paychecks) is that marketing work actually has to help sell a product or service. So you be the judge, what is more difficult, being entertaining and engaging or being entertaining and engaging while selling something?
Insight Marketing Design was proud to receive many awards this year, including a Best of Class, for clients from industries as diverse as higher education and banking to agriculture and marketing. The categories our work was recognized in was just as diverse, including radio, television, print, point-of-purchase, non-traditional, design and illustration.
The Insight crew always has a great time at the ADDY Awards and this year was no different. After all, how often do you get to watch a couple hours of commercials without those bothersome movies and shows in between?
We'd like to offer big congratulations to our team, our clients, the South Dakota advertising community and even to those people who only won an Oscar this weekend.