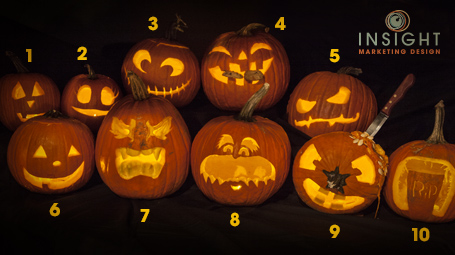 Insights:

HarvestFest 2017!
It's that time of year again. The colorful leaves flutter gently downwards, the wind begins to nip at your nose, and the Insight team grabs knives and starts slashing and stabbing.
Before you call 911 to report this startling news, remember it's not a crime to have fun. And it's always fun at Insight's annual HarvestFest. This year may have been even spookier than normal, because it was our 13th annual fall party. There were also reports of a black cat creeping around the office, but this has not been confirmed and these visions may have been due to the spirits we all indulged in.
A virtual patch of pumpkins in every shape and size were gutted, carved and illuminated to make sure everyone was in the holiday mood.
Never short on creativity at Insight, the artistic results featured everything from a tombstone to a cookie-eating jack-o-lantern. In addition to the big orange gourds, our potluck treats were also quickly dug into.
With everything from spaghetti and bbq chicken sandwiches to candy and "slasher" cupcakes featuring knives, axes (with just the right amount of blood) nobody was scared to have seconds….and thirds.
As we do every year, you can visit the Insight Marketing Design Facebook page and cast your vote for your favorite jack-o-lantern.  Whoever wins will be thrilled they squashed the competition.
We all hope you have a great Halloween and don't forget to eat, drink and be scary.