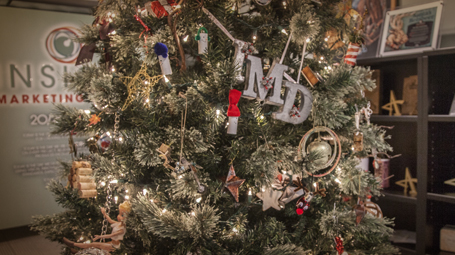 Insights:

Christmas ornaments: spiders and more.
Spiders, ninjas and phonographs were just a few of the unexpected ornaments to appear at this year's annual Insight Marketing Design holiday ornament contest.
For those who don't know, every year Insight Marketing Design's team is tasked with creating unique, homemade christmas ornaments to hang on our agency's tree.
In addition to ratcheting-up everyone's holiday spirit, Insight also awards cold, hard cash to the ornament that wins our internal voting.
This year's collection of ornaments included a tree featuring dangling wine cork snow people, a reindeer made from a Christmas light bulb and a green felt star with photos of the entire team on it. On the less traditional side, we also saw sparkly spiders, a skate boot made out of a twig, ninja bread men and a phonograph made from a pop can and other hunks of surplus metal. These ornament-designing efforts prove that there is never a shortage of creativity and odd thinking at Insight.
Once again we have posted all the ornaments on our Insight Facebook page so you can vote for your favorite. Vote by December 29, 2017, we will then randomly select one person from all those who posted to win a custom designed 2017 Insight Marketing Design Christmas Scarf. Be sure you don't miss your chance to vote, because we're sure you'll agree the IMD scarf is both warm and cool.
For those who aren't familiar with the touching story behind the Legend of the Christmas Spider you can read all about it here – Legend of the Christmas Spider
Visit our Facebook page now to cast your vote and get even more into the holiday spirit.
The whole crew at Insight hopes your holidays are merry, bright and creative.