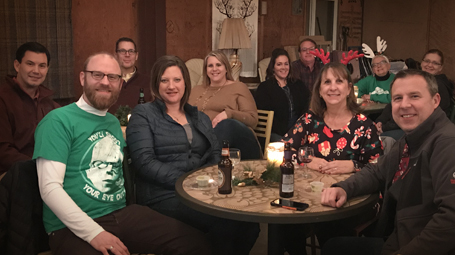 Insights:

Insight's (non-edible) Holiday Jam
Insight Marketing Design's crew rocked in the holiday season at our annual holiday party. This year we headed off to The Retreat at Pointer's Ridge, a rural artists' retreat located down a gravel road next to the Big Sioux River.
The reason we found ourselves deep in the countryside was to attend the Hegg Brothers Band Holiday Jam rehearsal. The Hegg Brothers Band is a well-known, local musical group featuring 10 musicians who play a wide variety of musical styles.
While Holiday Jam is a holiday tradition for many in the Sioux Falls area, the rehearsal concert we attended was a laid backed, intimate session with the band experimenting with different styles and different approaches to many holiday classics.
In addition to great music, we also enjoyed delicious small plate treats served during the concert and adult beverages to ensure the holiday cheer remained high throughout the evening. After the rehearsal, a bonfire was light and S'mores were toasted. This year's unseasonably warm temperatures made being outside at night at the end of November actually pleasant.
The band was amazing and we highly recommend attending one of their upcoming holiday concerts for a real holiday experience.
We all hope you have a great holiday season and keep on rockin'.