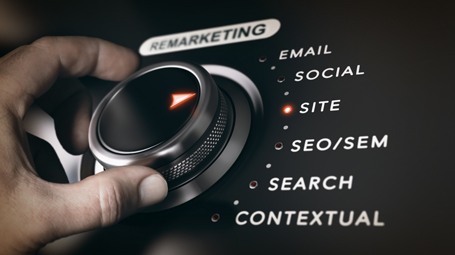 Insights:

Case Study: Effective Remarketing Campaigns
Remarketing is a digital marketing technique that allows advertisers to target browsers who have already visited their site. While most people may not know the name, we are all familiar with the effect. We're browsing for running shoes, visit a website and for weeks afterward we see ads for shoes when we go online.
The effectiveness of remarketing is based on the idea that visitors who are already familiar with your product or services, who have already been to your website, are more likely to come back and perform a conversion action.
Best practice dictates that when developing a remarketing campaign, you should create ads that acknowledge the visitor's familiarity with your brand and offer some kind of value-added incentive to return and complete the transaction. An example of this would be remarketing ads that offer a discount to returning visitors. 
At Insight Marketing Design we practice what we preach. We recommend paid marketing to clients because we utilize it ourselves and often use our own campaigns to run experiments, gauge results and pass the benefits of that on to our clients.
Case in point: Insight recently redesigned our website. We were seeing significant traffic, but a high proportion of those visits were new visitors. The goal was to encourage more engagement in the content on the site – to get potential clients to browse the pages, to read our marketing insights on the blog page and become more comfortable with our expertise.
We began with standard display ads to familiarize new visitors with our services (in this case website design) while simultaneously running a remarketing campaign targeting those new visitors after they had clicked on the ad:
| | |
| --- | --- |
| Standard Display Ad | Remarketing Ad |
| | |
The message directed at the potential client is "Hey, now you know who we are and what we do, why not come back and see how well we do it!"
The results were significant. Here's a snapshot from our analytics account comparing new vs. returning visitors.
| | | |
| --- | --- | --- |
| October 2017 | December 2017 | January 2018 |
| October 2017, the month before the launch of the remarketing campaign looked like this. Only 13% of our visits were from returning visitors. | We launched the remarketing campaign in November and by December the stats looked a little different (34.6% Returning). | Allowing the campaign a little time to build rank and effectiveness shows even more improvement and January's figures look even better (48.7%). |
At the same time, (with no increase in campaign budget) display campaign clicks went from 685 in October to 1,204 in December, CTR doubled and Average Cost per Click dropped from $0.96 to $0.68.
Poorly implemented remarketing can be an annoyance to browsers who will get tired of seeing your insistent ads trying to lure them back to your site, and can have the opposite effect of alienating customers. Strategic and creative use of the technique however can be a powerful tool to engage potential clients and draw them deeper into the content of your website.