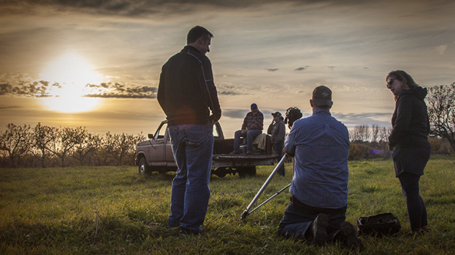 Insights:

Photography for Insight clients recognized as best in the world.
Insight Marketing Design knows the impact great photography can have for a brand. Which is why we seek out and work with great commercial photographers. Recently, one of those photographers was named one of the two hundred best photographers in the world by international ad industry magazine, Lurzer's Archive.
Photographer Robb Long has worked with Insight many times over the years. His entry for the prestigious 200 Best Ad Photographers included three photographs.
Two of the three photographs he chose to represent his best work were from shoots he did for Insight.
One photograph featured a farmer standing in the back of his pickup truck silhouetted by a sunrise. This picture was part of a magazine ad Insight created for our client Oro Agri. It was designed to capture the passion that many farmers bring to their business.
Click here to see how we utilized the photo to create a powerful brand message.
The other entry featured a real farmer behind the wheel of a tractor. This image was created for Insight Marketing Design client Superior Grain Equipment and was used in a magazine ad. Insight chose to use real farmers instead of models to portray authenticity.
To see how we used real farmers to connect with potential customers, click here. 
Rob's third entry was from a personal project he has been working on for years.
Everyone at Insight congratulates Robb Long Photography for being named One of the Top 200 Ad Photographers in the World!
If you'd like to learn more about how Insight Marketing Design produces marketing messages that get noticed worldwide, give us a call at 605-275-0011.