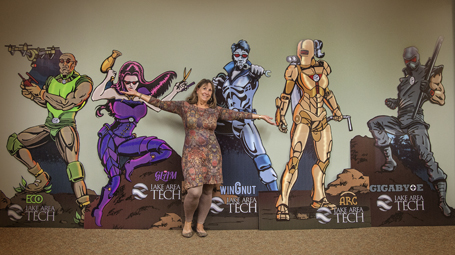 Insights:

A team of superheroes delivers knockout marketing
Effective marketing sometimes seems beyond the powers of mere mortals. Which is why to make sure Insight Marketing Design's longtime client Lake Area Tech made a serious impact at recruitment events we trusted in the unstoppable power of superheroes.
As part of Lake Area Tech's new recruitment material our team had fun creating a series of five 8-foot tall standup superheroes. Each hero represents some of the
potential subject majors new students could choose.
The fun and engaging LAT hero team consists of:
Gigabyte – A futuristic ninja who reflects the high-tech offerings at LAT, like
robotics and computer information systems.
Glam – Who beautifully captures the spirit of the popular cosmetology
majors.
ARC – A metal clad super woman who stands strong for welding technology
ECO – The agricultural programs and natures very own defender.
WingNut – Who not only fights injustice but can also keep anything with an
engine running smoothly, just like Lake Area Tech's mechanical students.
All of the Lake area tech heroes were designed and illustrated by Insight's Executive Creative Director, Doug Moss. Each captures the excitement and commitment of the students who won't let anything stop them from following their chosen career path.
In addition to the large stand-ups, Insight also created metal lunch boxes featuring the LAT heroes to be sent to high school guidance counselors. The lunch boxes contain information about Lake Area Tech programs and give counselors a fun item to display in their offices.
You can check out all the heroes on Insight Facebook page. And if you ever feel your marketing challenges are insurmountable, remember Insight's office is full of marketing heroes who are able to develop concepts more powerful than a locomotive and able to leap to tall billboards in a single bound.