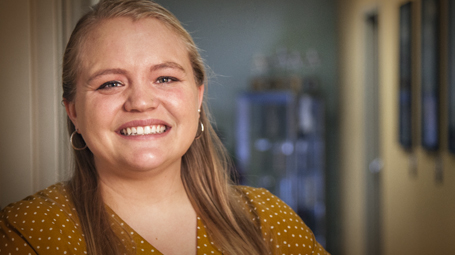 Insights:

Insight welcomes Rebecca Christman as Social Media Specialist
You may not have heard of our newest hire yet, but you will, because Rebecca Christman is laser-focused on everything social. In her new role as Insight's Social Media Strategist, she is helping our clients build strong connections with their customers on a wide variety of social media platforms.
In addition to years of social media experience, Rebecca is also Social Marketing Certified by Hootsuite.
When not building excitement and growing communities online, Rebecca ensures that Insight's responsive client service never misses a beat.
Before joining Insight Marketing Design, Rebecca was the Outreach Director for Ag United for South Dakota. So in addition to her impressive social media skills, she also understands the Ag industry from the ground up.
Rebecca earned her bachelor's degree from South Dakota State University and is close to completing her Master's in Communication from Purdue University. Along the way, she has also earned her Graduate Certificate in Strategic Communication Management.
When not working in the virtual world, Rebecca can usually be found out in the real world, taking advantage of the countless outdoor activities that surround our city. She's usually accompanied on her adventures by Guthrie, her fun-loving Bernese Mountain Dog.
If you're ready to get more from your social media marketing efforts, give Rebecca a call or send her an email. And if you happen to see her out in nature, don't forget to give Guthrie a pat on his head.
Welcome to Insight Marketing Design, Rebecca Christman.