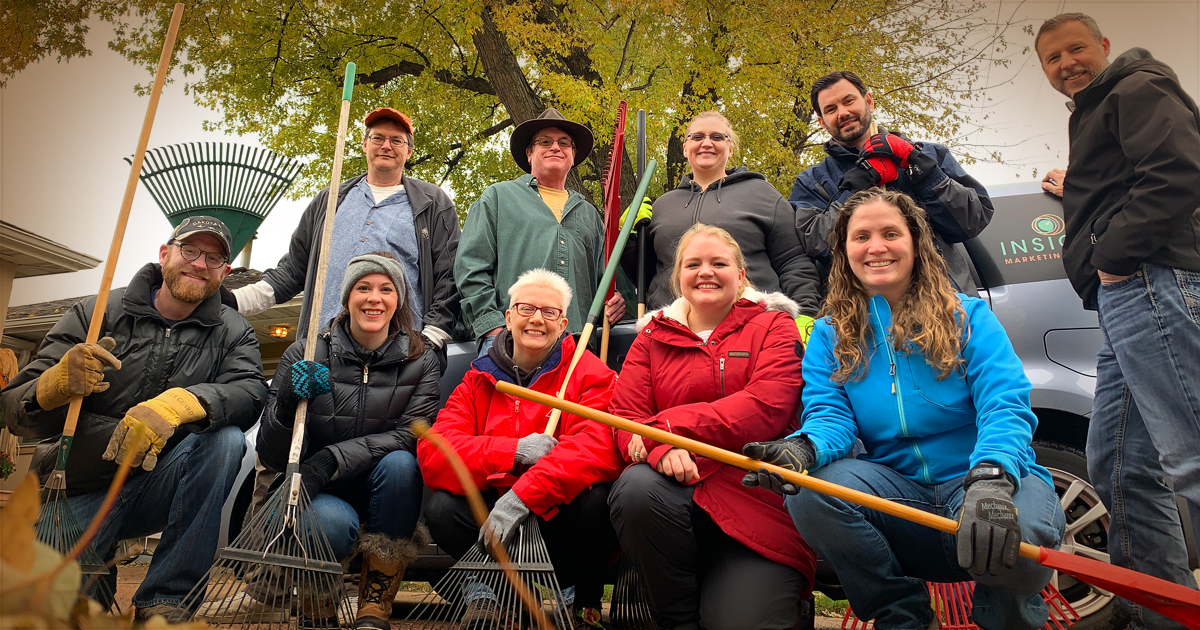 Insights:

An Insight Harvest Fest with a heart
This year will be a little different for those who regularly follow the fall hijinks of Insight's team. Typically this is the time you'd find us buried up to our elbows in gooey, slimy pumpkin entrails as we compete for the best jack-o-lantern. But this season we put down our knives and picked up our rakes. And I, for one, found carving a pumpkin with a rake really hard! Just kidding.
The Insight Marketing Design team joined many other businesses, clubs and sports teams to help out our fellow Sioux Falls citizens. This event, called Rake the Town is organized by Active Generations and over 1,000 volunteers citywide help rake the yards of over 360 elderly or disabled homeowners.
On Wednesday, October 23, we descended on the leaf-infested yards of our assigned properties and went to work. While the day was wet and gloomy, the inner warmth felt by doing a good deed kept us focused on our task.
After we had filled a pile of leaf bags, we returned to Insight's world headquarters and filled our bellies with the mountain of food everyone had brought in for the potluck. The quality and quantity was consistent with years past, but this time we had actually worked up an appetite. Everything from BBQ chicken and nachos to key lime pie and homemade peanut clusters were quickly devoured. I'm not sure, but I think I saw one of our team members using his rake as a fork.
You can check out all the good deed doing and good eating we did during Insight's Harvest Fest on our Facebook page. If you'd like to sign-up your group for next year's Rake the Town, you can find all the details here on the Active Generations website.
Happy Halloween from your friends at Insight Marketing Design!