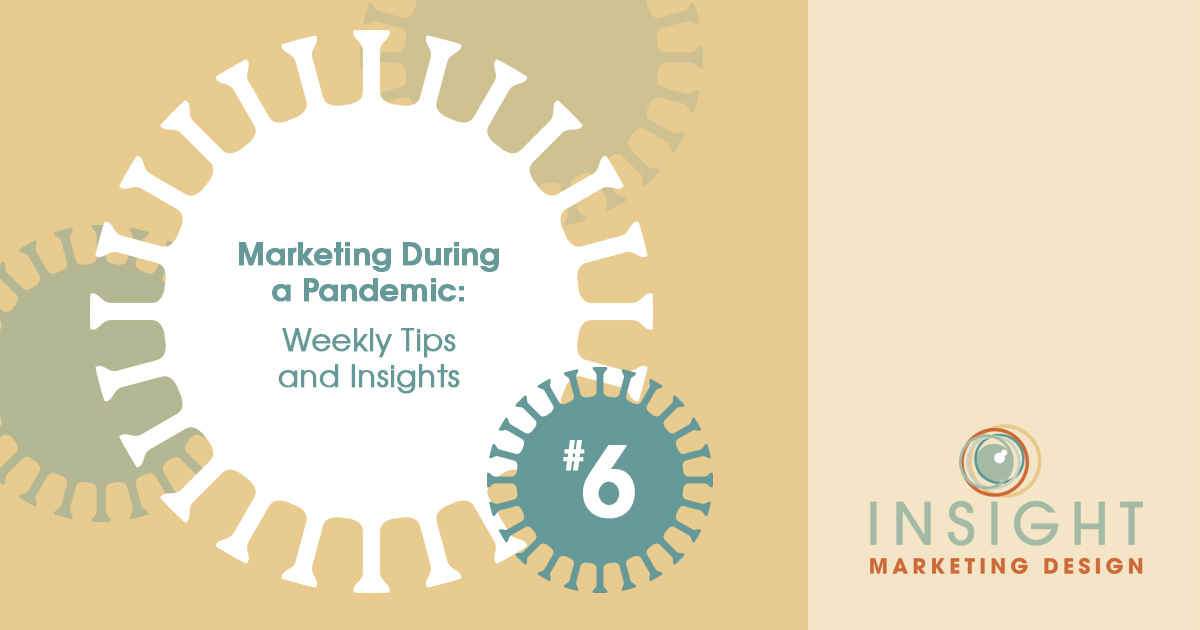 Insights:

Marketing During a Pandemic:
It's a good time to do good
By now you have probably noticed that many brands are stepping up during the pandemic to provide help and relief to people in a variety of ways. Naturally really big brands are getting the lion's share of attention for these good deeds, but the truth is thousands of smaller companies are also helping, much of which is focused on their local communities. 
Whether you're an international, national, regional or local company, providing real help to consumers can also create the positive side effects of  building your brand's awareness and growing brand loyalty. 
Insight's clients have also been busy giving to their communities in many great ways. Highlights of these efforts include:
Cooper Enterprises (Shelby, OH): Reconfigured their factory to manufacture needed point-of-sale shields, face shields and golf cart shields
Lake Area Technical College (Watertown, SD): 3D printing face masks and manufacturing hand sanitizer
South Dakota Farmers Union (Huron, SD): Promoting a suicide hotline for farmers, ranchers and rural citizens
Heartland Health Resources Center (Sioux Falls, SD): Creating and distributing COVID-19 prevention and education materials to at-risk South Dakotans
Century Business Products (South Dakota and Nebraska): Providing remote office support for people working from home
Center for Family Medicine (Sioux Falls, SD): Assisting patients with telehealth options and information
Rosenbauer America (Sioux Falls, SD): Donating 24,000 KN95 masks to first responders at fire departments around the country
Active Generations (Sioux Falls, SD): Delivering more Meals on Wheels to seniors than ever before
The American Coalition for Ethanol (Sioux Falls, SD): Helping ethanol plants quickly retool to produce hand sanitizer
These are just a few of the ways our clients are positively impacting so many people during this challenging time. It's also why the Insight team thinks Our Clients are Heroes!
If you'd like more information on this topic we invite you to contact us by calling 605-275-0011 or by email.