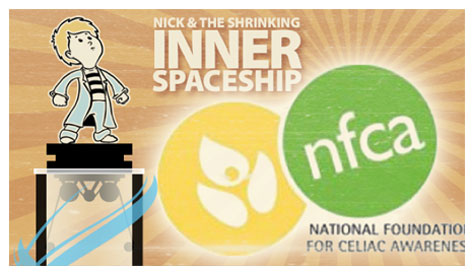 Insights:

Children's celiac disease books donated
The publishers of Nick and the Shrinking Inner Spaceship, a book about children's celiac disease, are proud to support the National Foundation for Celiac Awareness (NFCA) with a donation of 225 books.
"It's our hope that the sale of these children's celiac books will help support the programs and services of the NFCA," said Marcia Schmitz, mother of Nick, the hero of the book. "The NFCA is dedicated to increasing diagnoses of celiac disease and other gluten-related disorders and improving quality of life for those with celiac disease. We want to support that work."
"When we published the book, it was always our intention to make a contribution to NFCA," said Doug Moss, the illustrator of the book.
By selling the books at celiac events and conferences, the NFCA will raise money for the organization and raise awareness about celiac disease in children.
Nick and the Shrinking Inner Spaceship is the story of a boy-scientist who takes readers on an amazing journey. Nick shrinks himself and his favorite spaceship so he can explore his little brother's intestines for signs of celiac disease. He and the readers learn how celiac disease actually affects the body. But don't worry, everything comes out in the end.
When Nick Schmitz was 6 years old (he's 9 now), he was diagnosed with celiac disease. That diagnosis lead to a big change in Nick's eating habits – a change the made Nick feel a lot better. And when he learned how the disease affected his body, he wanted to share that information with other kids who have celiac disease. He and his mom decided to write a book to help other kids understand how celiac disease affected their body.
The book is available for $9.99 online at www.shrinkinginnerspaceship.com/