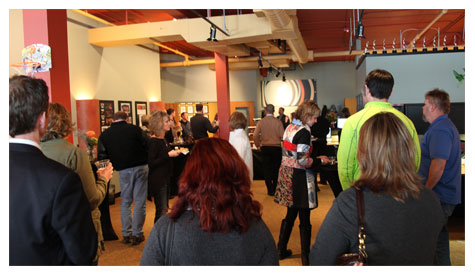 Insights:

Celebrating 10 years at Insight Marketing Design
Great food and great friends all combined to make a great evening as Insight Marketing Design celebrated the company's 10th anniversary.
The soiree was held at Insight's office at 8th and Railroad in downtown Sioux Falls.
Live music kept the evening humming as guest enjoyed the 10 best dishes from the 10 best local restaurants that opened within the last 10 years.
Despite an ice storm that crippled Sioux Falls, approximately 80 people joined us to salute a decade-long commitment to exceptional marketing. Among the guests were many clients who have been with Insight almost as long as there has been an Insight Marketing Design. You can see party pictures at our Facebook page.
Partners Doug Moss and Candy Van Dam toasted the first decade and promised even better things to come. They then unveiled the agency's new platform responsive website. (For those who don't know, "responsive" means it will automatically adjust to whatever device you are using. E.g.: Mobile, tablet, etc.) 
Over the last ten years, the advertising industry has undergone dramatic changes but the one thing that hasn't changed is Insight's focus on growing clients' businesses with marketing that truly stands out.
A big thank you all our clients and everyone who helped us celebrate our 10th anniversary and we promise our 20th anniversary will be even bigger. 
Next week's topic –
Marketing Insights: Should you monkey around with guerilla marketing?