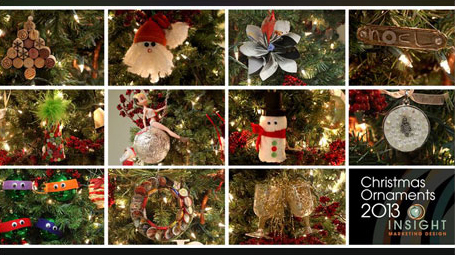 Insights:

Deck the halls Insight style
They say you can tell a lot about a family by what ornaments they hang on their Christmas tree. Judging by the Insight Marketing Design's tree we are either a very disturbed, creative or unique group.
Our annual ornament-making contest has come once again and featured such topical subjects as Miley Cyrus (complete with wrecking ball) to the ever-heart-warming traditional Santa. Of course, with this crowd it was not surprising to see a literal take on the holiday "spirit" theme with beer caps, wine corks and champagne glasses. 
Visit the IMD Facebook page at https://www.facebook.com/InsightMarketingDesign to see all the rest of our staff's handcrafted ornaments, including a snowman made from a paint roller, and vote for your favorite. 
Ho Ho Ho and Deck the Halls! Happy Holidays from all of us at Insight Marketing Design.
Next week's topic – Get your brand in shape for 2014.