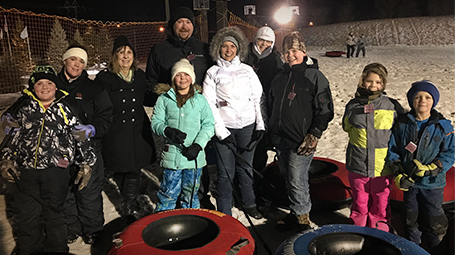 Insights:

IMD Winter Tubing Party Shenanigans
The Insight crew once again went to the mountain and then slid all the way down – over and over and over again. This year's Tubing Winter Party took place at Great Bear Ski Valley in Sioux Falls.
The focus was on tubing and food – which we were smart enough not to do at the same time.
Insight's Winter Party is open to our staff and their families, so there were plenty of
young kids sliding and chomping and generally having great fun.
One six-year old boy was even heard to say,
"It was the best day ever."
Great Bear Ski Valley offers 12 very fast lanes for tubing and they are lit so the sliding went on well into the evening.
In addition to the snow sports, we also had a delicious buffet featuring barbecue beef sandwiches and homemade chicken noodle soup that provided a great warm up.
If you're in the Sioux Falls area we recommend you visit Great Bear for winter fun including downhill skiing, cross country skiing, tubing and a snowboarding.
In full disclosure, Great Bear Ski Valley is an Insight client, but we would recommend a visit even if they weren't.
You can learn more about Great Bear by visiting their Insight Marketing Design created website.
Winter can seem to drag on this time of year, but getting out with all our co-workers and playing in the snow acts as a great reminder of all the fun to be had even on the coldest South Dakota days.
Don't forget to check out all the pictures from the Winter Party on Insight Marketing Design's Facebook page.