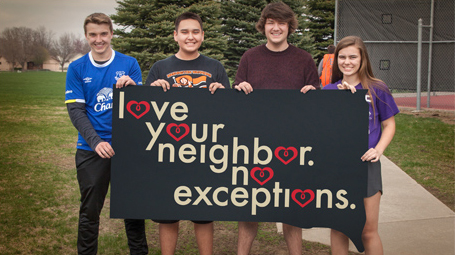 Insights:

Marketing Insights: Love your neighbor
As most people know, America is experiencing a great degree of divisiveness and polarization.The news is constantly showing us people and groups who are demonstrating an unwillingness to find peaceful and meaningful ways to resolve our differences and work together to find beneficial solutions. It's become so endemic that most people have no idea what they can do to help.
One group, however, believes they have an important message to help everyone put things into perspective and to find common ground. South Dakota Faith In Public Life is a group of religious leaders, from different beliefs, who have joined together to get that message out.
They asked Insight Marketing Design to help them spread a simple message – Love your neighbor. No exceptions.
While the budget was small, we felt the message was of the great importance and very timely. To create a television commercial to reach everyone in South Dakota we asked individuals from around our state to take a picture of themselves and send the photos to us.
We then used these images and a powerful sound track to show that if we all keep this simple message in mind, the world will be a much better place.
In addition, we created a logo that reflects the infinite amount of love there is in the world and then animated the logo for the television spot.
Change comes from within all of us, and we hope our client, South Dakota Faith In Public Life's message reminds all of us that we have more in common than that which divides us.
You can see the "Love your neighbor. No exceptions." commercial here. Please feel free to share it with all your neighbors. No matter where they live.
To learn more about South Dakota Faith in Public Life click here
And remember if you "Love your neighbor. No exceptions." the world will certainly be a better place.