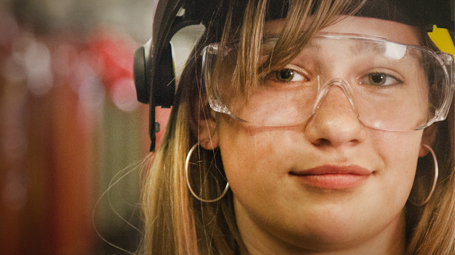 Insights:

The New York Times features Lake Area Tech in Higher Education Article
Almost any company or organization with a big enough marketing budget can buy ad space in The New York Times. To be featured in a positive article however is a whole different matter.
Insight client Lake Area Technical Institute recently appeared in a New York Times article about the skill gap many businesses and graduates are facing. The skill gap is the difference between what skills businesses require from their employees and what skills students are learning in school.
Lake Area Tech was featured as one of the schools that are proactively designing their curriculum to meet real-world needs. Their 99% job placement goes a long way to prove Lake Area Tech is getting it right.
Accompanying the article is a photograph of Heidi Lunders, a Lake Area Tech welding student.
Heidi was part of a television and print campaign Insight Marketing Design created and produced for Lake Area's recruitment marketing.
All the people who appeared in the campaign were actual Lake Area Tech students and were chosen to portray a realistic look at what the college was really all about.
Obviously, The New York Times felt we had hit the mark when they chose this photo to represent Lake Area Tech in their article.
You can read The New York Times article here.
To see how Insight used Heidi Lunders and the other Lake Area Tech students to market the college, click here.
And remember kids, be cool – stay in school!