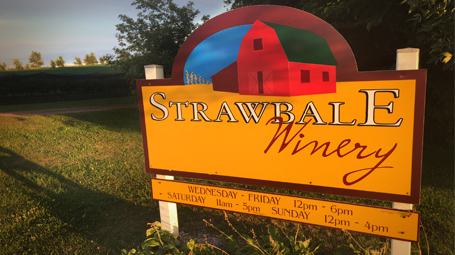 Insights:

Chickens, wine and paddleball
For this year's annual Insight Marketing Design's summer party, our "always up for party" crew visited Strawbale Winery in beautiful Renner, South Dakota.
The picturesque winery features a Summer Porch Series That combines wine, beer, food trucks and live music.
This outdoor event includes some things you don't usually see at concert, like a plethora of chickens wandering about and wine made into slushies.
It was noted by members of the Insight team that none of the food trucks offered any chicken dishes. This was probably done to avoid a chicken uprising. Smart.
Wine slushies may seem odd, but they really hit the spot on a warm summer day. They were available in multiple flavors, which most of us felt compelled to try.
To celebrate the original homesteader of the Strawbale's property's birthday, the staff gave guests a party toy. The most popular were little paddle-balls.
The paddle-balls soon became a major competition with the Insighters, with Jill paddling so aggressively she broke the toy in two. At that point we all had more wine slushies and declared her the paddle-ball champion of 2017.
Like every year, it's hard to believe how fast the summer goes by, so taking a little time out to enjoy the beautiful weather with our workmates is always a great time.
Check out some party pics on our Facebook page.
If you would like to challenge Jill for the paddle-ball crown, post a video of your paddle-board prowess on our Facebook page and she'll decide if you're worthy of a shot at glory.
We all hope you have a fun, wine slushie kind of summer.