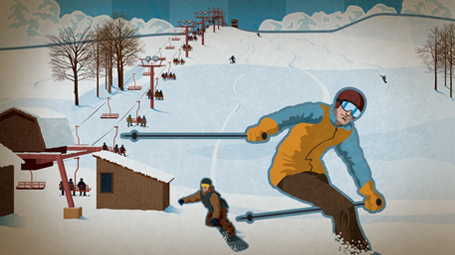 Insights:

Whether weather is right for your business
Most people reading this are aware that the weather has been a little chilly in Sioux Falls lately. Chilly, if that is how you would characterize 20 degrees below zero. Others would say it's been (Place your own expletive here) cold! But that's part and parcel of living in the Midwest.
While this type of weather has many thinking about fleeing to the tropics, it made us think about what a great marketing opportunity for people selling winter coats, snow shovels and space heaters. Actually, that list could go on for quite a long time.
It has been said that the weather is the second biggest influence on consumer behavior right behind the state of the economy.
I'm sure the guys who sell umbrellas on the street would agree. Rain equals great sales. Sunny? Switch to selling sunglasses.
Fortunately for marketers in today's hyper-connected, geo-targeted world, acting like a street umbrella vendor is fairly easy to do. Apps and real-time feeds allow you to tailor messages both online and in the real world based on what the weather has done, is doing right now or is going to do.
If you're a car dealer, hitting your audience with a 4×4 vehicle ad during a snowstorm can really create interest and shorten the sale process. Of course, that wouldn't be a good time to be selling shorts.
Weather-targeted ads can be digitally placed, including mobile only (hot cocoa half price!) and on social media to appear only when a certain temperature or weather condition happens.
You can also utilize digital billboards and signage that adjust to the weather and the time of day. Many broadcasters, like radio stations, also offer weather-triggered commercials. So next time you're admiring or cursing the weather, think about what product or service you offer that fits the atmospheric conditions.
If you want to learn more about weather-triggered marketing click here to contact Insight Marketing Design and you may end up singing in the rain.