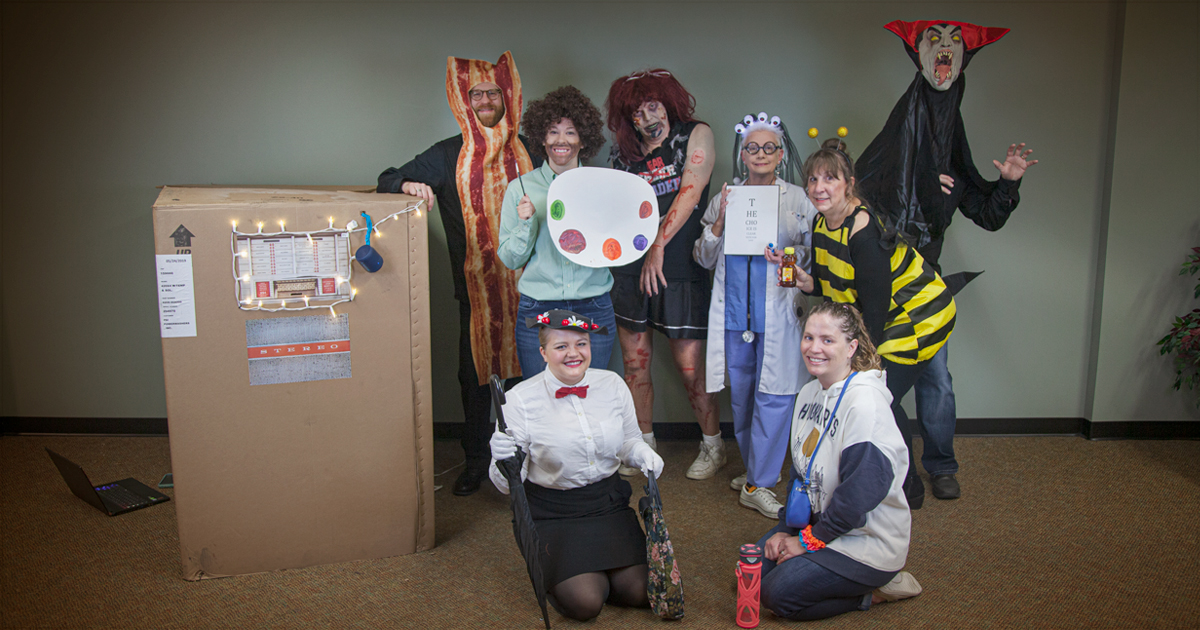 Insights:

So creative it's scary!
Yup, you guessed it. The Insight Marketing Design crew was up to our usual Halloween hijinks, focusing our creative prowess on creating award-winning costumes for Insight's annual contest.
Every Halloween Insight awards cash prizes in two costume categories.
The first category is Most Creative and the second is awarded for the Most Transformed. This year's choices didn't disappoint with a shocking lineup that may keep you up at night.
First up was everyone's favorite breakfast meat, bacon! Ben was sizzling hot in his full body bacon costume. Staying with the food theme, Candy buzzed around as a honeybee complete with a jar of delicious honey.
Switching to those who went with costumes that reflected a more current pop culture feel, Lorna came as the ever popular Bob Ross and spent her day painting happy little trees all over the office. Kelcey knew it was all about the scrunchies when she decided to appear as a VSCO girl.
This year's classic entries featured Rebecca as a supercalifragilisticexpialidocious Mary Poppins, Doug as a supersized Dracula and Stuart as a classic female zombie with team spirit. His "fear leader" outfit had everyone cheering.
Finally we come to those that don't fit neatly within a category. Gaye had her eye on the prize in her Iris Iverson eye-doctor costume. She spent the day showing everyone her pun power by using vision-related words in everything she said. Jill came as an actual working jukebox that played songs whenever someone dropped in a quarter.
You can see all the costumes and find out who won by visiting Insight Marketing Design's Facebook page. Be sure to let us know who your favorite was.
Happy Halloween from all the creatures at Insight!