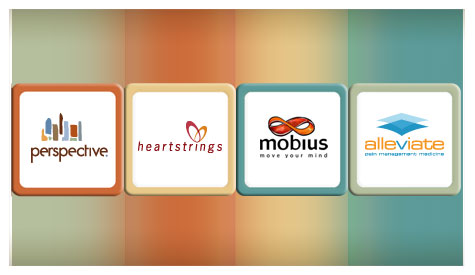 Insights:

Logo Design by the Book
Insight's designers have done it again. They've been published in LogoLounge's latest book of logo design, 3000 Shape & Symbol Logos.
Perspective Inc., designed for the Sioux Falls architectural firm that's changing the city's skyline.
Heartstrings, created for marriage and relationship counselor Laurie Chapman.
Mobius, developed for a company that uses dance and movement as teaching tools.
And Alleviate, designed for a pain management clinic.
The introduction in the book states that shapes are generally logos that are more concept-oriented.
That's exactly where Insight's designers start, said Doug Moss, Creative Director & Partner at Insight. "When we begin a new branding or logo project, we focus on the concept. Logos can communicate movement, or strength or whimsy. It's our task to create the design elements and color palette that best convey the core message of the brand."
What do you see in these four distinct icons?
LogoLounge.com has more than 160,000 logos on the site, and is an indispensible reference tool for designers. It's also one of the most respected international design competitions.