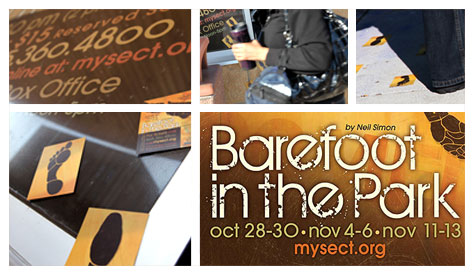 Insights:

Insight steps-up non-traditional campaign
The Sioux Empire Community Theatre premieres this weekend with Neil Simon's timeless comedy Barefoot in the Park.
And, on a warm autumn day, visitors to downtown Sioux Falls followed the footprints to the Orpheum Theater. The tracks, barefoot and oxford shoe prints on cards, were part of a non-traditional campaign that Insight Marketing Design created for the community theatre company. Insight team members laid out some 3,000 footprints, occasionally flipping over a card to reveal the performance dates and ticket information.
"We used the play's title to raise awareness for Barefoot in the Park – and to get some interesting responses from downtown visitors during a busy lunch hour," said Doug Moss, Executive Creative Director at Insight Marketing Design. "We're always looking for unique, attention-getting ways to promote the plays. This seemed like a natural — but unexpected twist — for Barefoot in the Park."
Of course, Insight team members monitored the displays, picking up the left over cards at the end of the event.
Barefoot in the Park performances are Oct 28-30, Nov 4-6, Nov 11-13. Friday and Saturday performances are at 7:30pm and Sunday matinees begin at 2pm.
Tickets are available online at www.mysect.org or the Orpheum Theater box office from 12n-5p Mondays-Saturdays at 605-360-4800. All performances will be held at the historic Orpheum Theater in downtown Sioux Falls, 315 N. Phillips Avenue.