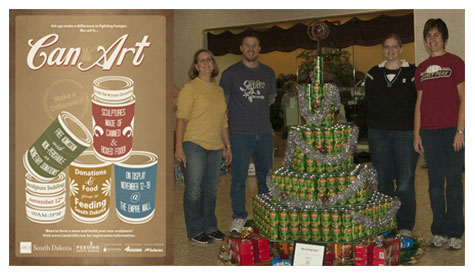 Insights:

AIGA Asks: Can Art Make a Difference? Yes.
What do a Christmas tree, Santa Claus, Falls Park, an empty refrigerator, a giant website cursor and a barn have in common?
They're all part of AIGA South Dakota's first-ever Can Art event at the Empire Mall. As a member of AIGA South Dakota, I'm proud that our organization found a way to combine our passion for design with a very important community cause.
The six entries in Can Art will be on display through next Saturday, so go out to the Empire Mall and vote for your favorite entry. There are also collection boxes for monetary donations and non-perishable food items. On Saturday we'll dismantle our creations and donate thousands of cans and boxes of food to Feeding South Dakota. It's the perfect way to start off the holiday season.
Visit AIGA South Dakota's Facebook page for more photos of the event!
And thank you to the six teams who collected and created Can Art: Blend Interactive, Insight Marketing Design, Raven Industries, TSP, Southeast Technical Institute and University of Sioux Falls.