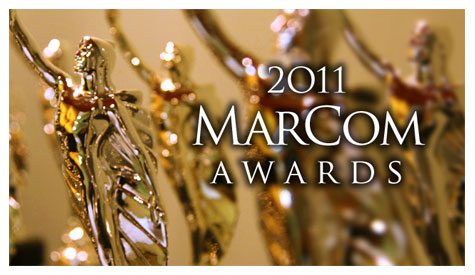 Insights:

Advertising Awards season begins with MarComs
The words on our wall, "Clearly Creative Communications" sum up Insight's mission to develop outstanding work that works hard for our clients.  Thank you and congratulations to our clients for allowing us to create work that stands out.
The MarCom Awards, one of the first advertising awards competitions of the season, has notified us that the following projects have been deemed worthy of a trophy:
Nick and the Shrinking Inner Spaceship, a book and website created to increase awareness of celiac disease, received Platinum Awards.
High Plains Library District's television commercial, "Where do ideas come from?" a combination of live video and animation, received a Platinum.
And the television campaign created for SD Synod of the ELCA also received a Platinum Award.
The Lake Area Technical Institute's 2011-12 recruitment campaign, including television and viewbook, were awarded Gold MarComs.
The SD Synod's Cookbook — actually a handbook on the work of the church — received a Gold.
And an animated TV commercial for Century Business Products was awarded a Gold.
"Stage Hands," the 2011-2012 season image campaign for Sioux Empire Community Theatre received an Honorable Mention.
The MarCom competition is one of the largest marketing/communications competitions in the world, with about 5,000 entries per year. A look at the winners shows a range in size from individuals to media conglomerates and Fortune 50 companies.