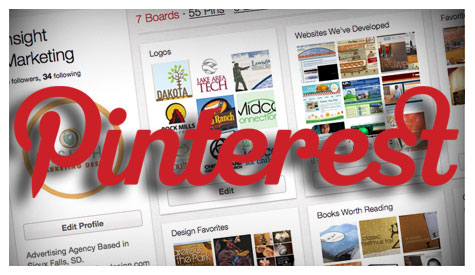 Insights:

What's your Pinterest?
Have you pinned today?
It's something that more and more people are doing. And the stats prove it: Pinterest , is a (somewhat) new social network that allows users to follow trends and post images on "boards." The site's popularity has exploded from 1.2 million users in August to more than 4.9 million today. According to comScore, what Pinterest lacks in visitors it makes up for in time on the site: visitors spent an average of 88.3 minutes "pinning," just behind Facebook (394 minutes) and Tumblr (141.7 minutes).
These virtual boards become collections of images: photos, links from websites and various uploads that became online scrapbooks. The social interaction comes into play when users follow other user or specific boards of Pinterest users. When they re-pin or even just "like" a pin, the originator of that Pin is notified, and a potential connection is made via Pinterest.
And it's not just for scrapbooking moms and brides planning their weddings. Pinterest boards are the virtual equivalent of Style Boards created by advertising agencies and design firms to explore branding directions for their clients. Pinterest is a great way for companies to share ideas in a visual, virtual environment.
Check out Insight's Pinterest boards.
Are you on Pinterest?