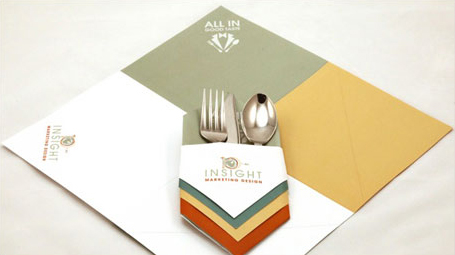 Insights:

Insight's Invitation is Fold Factory Fold of the Week
Imagine our excitement when Insight's 10th Anniversary invitation was this week's "Featured Fold of the Week" from The Fold Factory!
If you get excited about interesting scoring methods, die cuts, bindery options and unique printing techniques, this video blog is for you. Each week, Trish Witkowski from The Fold Factory selects a unique print piece to showcase on her e-video segment that goes out to thousands subscribers.
Insight's All in Good Taste 10th Anniversary Invitation was designed as if it were an actual table napkin – complete with silverware. Insight's printing partner, GLS of Brooklyn Park, MN, submitted the invitation piece to Trish. The invitation was designed and folded to look like an actual table napkin and that's why Trish chose to feature it this week. 
You can see how excited she is in her "60-second Super-cool Fold of the Week" e-video.