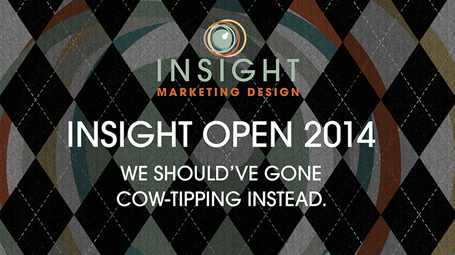 Insights:

Golfing and goofing.
Insight Marketing Design hosted it annual (not really annual, but more like occasionally annual) employee golf outing this past Friday. Two groups, consisting of Doug Moss, Ben Hodgins, Candy Van Dam and Jon Carroll in the first and Jill Smith, Andi Leonard, Kari Geraets, Ashleigh Walton and Lisa Leuning in the second, teed off for an epic battle on the links.
The crack of wood on urethane heralded the start of play as dimpled balls hurtled toward distant pins. Actually, laughter and curses were heard more often as many of our duffers came to the realization that to place a ball a few hundred yards down range actually takes more practice than our (kind of) annual outing offers. Nevertheless, we all had a great time tearing up the course, hiding from the intermittent rain showers and enjoying time spent with friends in the great outdoors.
While we enjoyed frosty beverages and received gift bags in the clubhouse after play it was unanimously agreed that we would not be sharing our scores in this blog but I will tell you that the winning team included agency owners Doug and Candy. Whether that was a coincidence or smart career move by the opposing team will be left for you to decide.
To see more pictures of our amazing marketing professionals in not quite as amazing action on the golf course just click here to visit our Facebook page.
Stay tuned for even more Insight Marketing Design outing reports. Rumor has it that fall parachuting is next on the list.