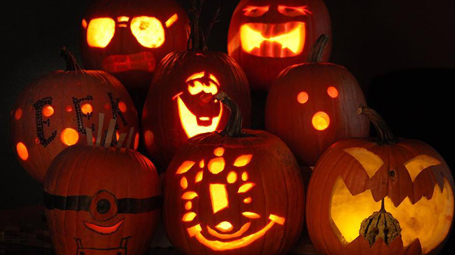 Insights:

Harvest Fest: A party with knives.
Knives, power tools and a wide array of bubbling crockpots. Yes, it was time once again for Harvest Fest, Insight Marketing Design's annual salute to autumn and the slaughter of innocent pumpkins.
All had a great time as we stepped away from our computers and picked up real world (and real sharp) implements of creativity to turn pumpkins into jack-o-lanterns. Some went traditional while others favored a more modern art approach. You can see all the jack-o-lanterns on Insight's Facebook page. Please leave a message on which is your favorite. There's no prize for best jack-o-lantern, but bragging rights go along way around here.
We also enjoyed our usual potluck buffet featuring classics like the annual appearance of Ben Hodgins' triple corn casserole, as well as never-before-seen concoctions like Doug Moss's twist on Cincinnati chili, the Cincinnati chili lasagna – trademark pending.
We hope everyone has a fun and spooky Halloween and remember – superglue is a great way to stop bleeding after a pumpkin carving mishap…just saying.