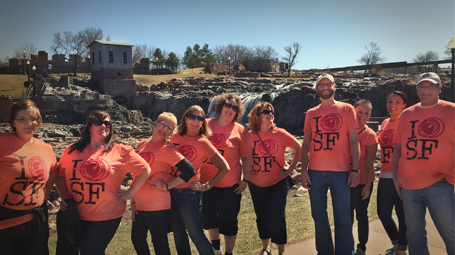 Insights:

Insight's Sculpture Walk
In celebration of Insight Marketing Design's 12th anniversary — and the amazing weather — the entire Insight crew took to the streets to view Sioux Falls' sculpted wonders.
For those of you not familiar with Sioux Falls' famous Sculpture Walk, it is a collection of more than 50 statues placed throughout downtown. They are changed every year and for those with an eye for art, they are for sale. You can learn more about this wonderfully artistic display on the sculpturewalksiouxfalls.com website.
Being a creative agency, we look to many sources for inspiration and sometimes that means hiking around town to find it.
We saw some amazing pieces of art throughout the downtown area. Naturally, all that walking around really built up a thirst. So, in addition to sculptures, we also stopped to admire some of our town's watering holes.
If you were downtown Tuesday, you may have noticed a large group of people wearing matching shirts with a distinctive message on them. Check out our one-of-kind Insight wear on our Facebook page and, no, those aren't professional models wearing them.
It was a great day for a sculpture walk and a great way to celebrate 12 years of creating "Clearly Creative Communications."