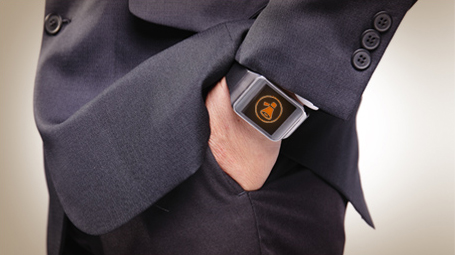 Insights:

Marketing Trend: The Smartwatch
The smartwatch has been around for a while, but with Apple's recent release they are almost sure to become even more ubiquitous.
The upside of this latest format is that marketers will have a whole new place to interact with and engage consumers.
The smartwatch will almost literally allow you to put your brand at your target markets' fingertips (Actually wrist, but it's pretty darn close).
The challenge is that it is a really, really small screen. Much like the change from desktop size screens to smartphone screens, this newest frontier will force advertisers to rethink once again how to maximize the opportunities on an almost microscopic screen.
At Insight our digital team has been researching, strategizing and blue-skying the possible ways for our clients to make the most out of this technology shift. This is one time that when we roll up our sleeves, it's not just to do hard work but also to get a better view of the latest marketing platform.
Smartwatches are a great way to receive notifications without having to grab your smart phone. Will advertisers use notifications to advertise on Smartwatches? Or is this too intrusive for a such a personal wearable device. Or, what about presenting offers on your smartwatch based on where the user is at, such as getting discounts from restaurants when you are in close proximity of the restaurant? Analysts are estimating anywhere from 8 million iWatches to 41 million iWatches will be sold in 2015, with an average of 2.5 million iWatches per month. 
The growing smartwatch trend is a good reminder that time waits for no marketer.