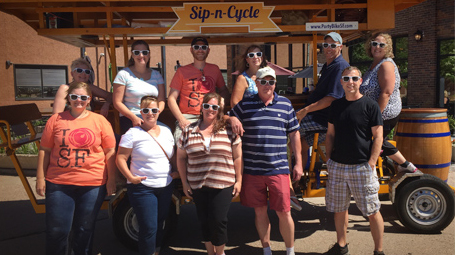 Insights:

Our sip-n-cycle summer party
Insight Marketing Design is an agency that's always on the move. A company that's not afraid to put in the hard work to reach a goal. We're also known as a group that enjoys knocking back a few cold ones. So what better for our annual summer party than combining all these great attributes into a fun outing?
Which is how we all ended up on a marvel of modern transportation called the Sip-N-Cycle. This conveyance is a combination bar and bicycle for over a dozen people. You simply jump on the bar stool, order your beverage of choice and then pedal…a lot. You can check out some fun pictures of the day's events on our Facebook page.
Our grand, two-hour tour had us pedaling and sipping all around downtown Sioux Falls. Being a strategically based organization, we very strategically planned a route that avoided most (if not all) the hills.
The reason for this is that the Sip-N-Cycle has no motor and all motion is based on human power.
While we started strong, a few stops at downtown bars (yes, we got off our rolling bar to visit other bars and then return to our rolling bar) resulted in an increasing lack of focus on pedaling and slowing the traffic behind us quite considerably.
After our journey ended we gratefully retired to a local restaurant for much-needed sustenance and prize giveaway.
Our driver, Sip-N-Cycle's Ashley, told us that she has had only one person fall off and she attributed that to the sipping part, not the cycling. So if you're looking for a fun outing, we'd recommend you take a bar for a cruise around beautiful downtown Sioux Falls.