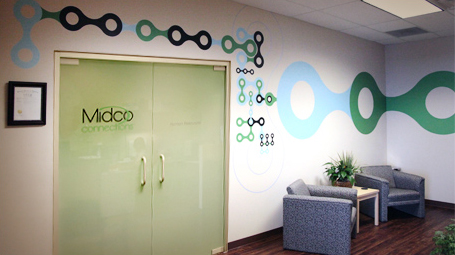 Insights:

Marketing Insights: Environmental graphics as marketing
Most people think of advertising as things like print ads, billboards, online banners and tv spots. But smart marketers know that everything can be an ad, even the walls that surround them.
For a brand to be effective it needs to be deeply ingrained within the company. Employees must know, believe and even live the company's brand promise. One very effective way of reminding everyone, including employees and customers, who enters your office, factory or store is to take advantage of all your wall space to reinforce your brand through environmental graphics.
Brand colors, slogans and graphics that are prominent in your external marketing can be incorporated throughout your facilities to support your brand and create a consistent feel and message to all your audiences.
We often provide guidance and design direction to clients for both large and small environmental graphics. This has lead to Insight creating everything from themed restaurant interiors, room-filling 3D installations and original wall paint designs throughout office buildings.
The reality is that almost every business is going to have some kind of interior design look. We think looking at that undertaking as a branding opportunity can help make your business and bottom line look better.