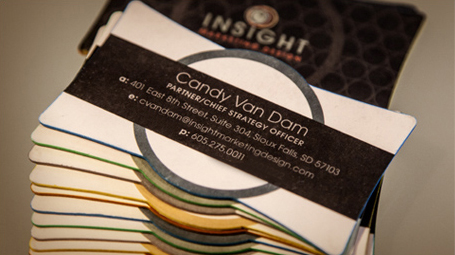 Insights:

The serious business of business cards
In today's digital world, skimping on a real world basic marketing tool can be costly. The basic tools I'm referring to in this case are your business cards.
Business cards, or a close proximity, became popular as early as the 17th century in Europe. Back then they were called visiting cards and handed out as a form of personal introduction.
They were also helpful in remembering who had visited your home or office so you could return the visit and avoid insulting your guest.
But in today's digital world where so much communication is done online, it is easy to forget the power of the old-fashioned business card.
The first thing to remember is that for everyone you meet in the actual world your business card gives them the information, such as your URL, they need to find you online.
Business cards are often the first impression a potential client will have of you. It can either be a positive impression, a bad impression or an utterly forgettable impression.
To avoid the last two, you need to give some serious thought about what your card says about you and your company.
Your business cards should reflect the quality and value you offer your customers.
It should also portray your approach to business. If you're selling innovation, then the card should be innovative in design. If you're selling stability and tradition a thick paper stock with rich colors can help promote that.
There are countless ways to make your card unique and attention-getting. On the other hand, handing out poorly designed cards on flimsy paper can end any chance of future business with the receiver.
With four centuries of use behind business cards there really is no excuse to ignore this valuable first impression opportunity.
Click here to see some impactful business cards and identity packages Insight Marketing Design has created for clients.