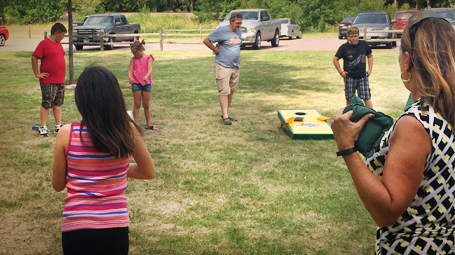 Insights:

Party in the park
Bags of corn where flying and buckets of fun was had by the Insight Marketing Design crew during our annual summer picnic.
This year found the intrepid Insighters and their families at the beautiful Rotary Park in Sioux Falls.
The main competitive focus of this year's event was the classic game of Cornhole.
For those not familiar with this deceptively easy looking game, participants attempt to toss bags full of corn through a hole in a raised platform.
Sounds simple enough, but it can really be a challenge.
The teams were made up of an adult and a child and while the children were very adult about this sport of champions. Some of the adults (actually, just me) could be down right childish in their responses to missed shots.
In the end, only one team could be victorious and this year's Cornhole champions were Doug Moss and Adam Van Ningen.
For those of us who saw Cornhole victory slip through our hands, the endless brats and hamburgers that soon filled our hands made a tasty consolation prize and were washed down with a tantalizing selection of ice-cold beverages.
At the end of our day in the park, we all indulged in Dairy Queen Blizzards to help support their #MiracleTreatDay.
A dollar from every Blizzard sale goes to help children who need care through the support of the Children's Miracle Network Hospitals.
It was a great day, a delicious way to support a good cause and a reminder to make the most of our short South Dakota summers.
To see some pictures and videos of all the fun, visit our FACEBOOK page.
Also, if you happen to know of a qualified, professional Cornhole coach, I could sure use the
help.