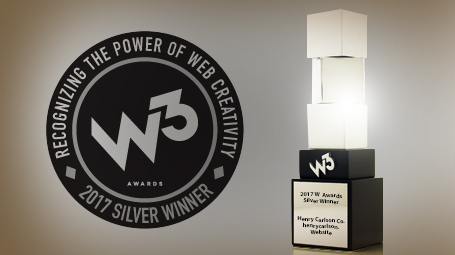 Insights:

Insight wins international digital W3 Award
Insight Marketing Design has been recognized by W3 for creative excellence for the new Henry Carlson Construction website. 
In the words of this international awards organization:
"The W3 awards celebrates developers, designers, coders, writers, marketers, dreamers and boat rockers who make every aspect of the Web (no matter how technical) a work of art."
The Academy of Interactive and Visual Arts, an assembly of leading digital and visual professionals dedicated to embracing progress, judge the work. These judges include executives from organizations such as Disney, Microsoft, MTV Networks, Polo Ralph Lauren, Sotheby's Institute of Art and Wired.
This digital focused show attracts entries from high-profile international corporations such as National Geographic, Hilton and Skype. With our Silver winning entry, Henry Carlson Construction can now be added to list of companies that understand the potential and opportunities of the digital realm.
To see what it takes to win a W3 award, click here to view Insight's client, Henry Carlson Construction's website and other breakthrough creative marketing material we've produced for this forward looking construction company.
All of us at Insight would like to congratulate the Henry Carlson Construction and thank them for giving us the opportunity to develop such an amazing site.