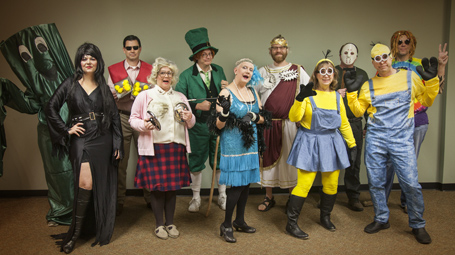 Insights:

Halloween happenings at IMD
Once again, the characters at Insight got into character to celebrate Halloween.
Every year, the crew at Insight Marketing Design puts their creativity to use creating costumes in an attempt to win the coveted IMD annual Halloween costume contest. This year's lineup did not disappoint. Stuart, our Digital Strategist and authentic Irish import tipped his top hat to the emerald isle by dressing as a Leprechaun. Account Coordinator, Meranda, transformed into the first lady of Halloween, Elvira. Ben stayed true to his Art Director roots and came as everyone's favorite font, Times New Roman. Kari, who as Operations Manger is always putting out fires, dressed as Mrs. Doubtfire extinguishing certain parts of her anatomy. Media Director Gaye got into the swing of things as a 1920s Flapper. Account Executives Roger and Glen transformed into a chick magnet and a hippie. Our fearless leaders, Doug and Candy, came as a pair of minions. And yours truly dredged up my inner psycho by appearing as Jason from the Friday the 13th movies.
But wait you may be asking, what about that green windsock dancer (Also known as an inflatable tubeman or air dancer)?
That was our own web developer, Jill. Her homemade costume was the hit of this season. Jill's fancy dance moves won over the voters and garnished her an unprecedented double win for both most transformed and most creative in this year's contest. While Jill was blown away by sweeping the contest, she decided to share the awards and since there was a three way tie for most transformed, Ben of New Times Roman fame was named second place for most creative.
You can see all the costumes and before and after pictures by clicking here to visit the Insight Marketing Design Facebook page.