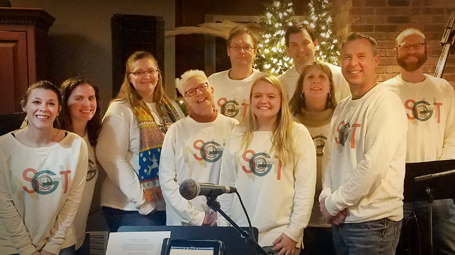 Insights:

It's beginning to sound a lot like Christmas.
The trees are trimmed, Jack Frost is nipping at our noses and good cheer is in the air.
That could only mean one thing: it's time again for the annual Insight Marketing Design holiday party.
While December has been a busy month so far, it's never too busy to take a little time out to raise our glasses and toast the season.
This year's holiday celebration began with the agency gifting the worker elves with a new 2018 IMD branded sweatshirt. Like always, it featured an original design by Executive Creative Director/Partner Doug Moss. In addition to being comfy, it's amusing to see people trying to figure out why all these people are wearing the same top.
After donning our holiday wear, we jumped into a one-horse open sleigh (actually a bunch of cars) and rushed through the winter wonderland that is South Dakota to beautiful Renner.
We arrived at the Safari Bar and Grill for some great food and free flowing libations. The Safari is known for their impressive collection of exotic animal taxidermy. Some swore they had seen a tiny reindeer with a red nose mounted on the wall, but that may have just been a side effect of the aforementioned libations.
Then we journeyed deeper into the countryside to enjoy the Holiday Jam Rehearsal Concert at The Retreat at Pointer's Ridge. This concert is actually a rehearsal for the band's extremely popular holiday concert series. The evening is laid back and the band members joke around with the audience. In fact, it's enjoyed so much by the Insight crew that this was the second year in a row we attended.
Having the time to relax together and enjoy the season is what Insight's annual holiday party is all about and this year was no exception. We hope all of you have a great holiday season and get to spend time with people you enjoy. Don't forget to visit our Facebook page to see all of our merry making in living color.
Happy Holidays from all of us at Insight Marketing Design.