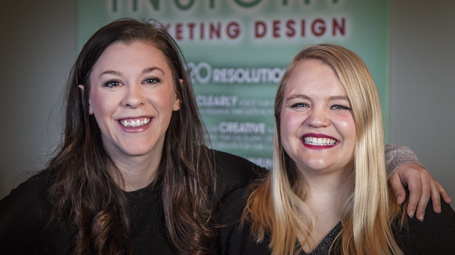 Insights:

Insight staffers earn social media certification
Insight Marketing Design manages a lot of companies' social media marketing. These cost-effective marketing platforms allow our clients to grow their brand while gaining powerful insights through ongoing, two-way conversations with their target markets.
Effective social media marketing takes a lot of effort to not only provide information and/or entertainment that is of value to the users, but also to listen and respond to what the participants are saying and feeling. Our digital team is constantly staying up to date on the newest techniques and approaches to make the most of these dynamic marketing platforms.
As part of this commitment, Insight's Social Media Specialist Rebecca Christman and Account Coordinator Lorna Riemer have undertaken and successfully completed the Hootsuite Academy Social Media Certification program.
This comprehensive social media certification program covers a wide variety of social media subjects, including:
• Growing a strong online community
• Optimizing profiles for maximum impact
• Identifying and utilizing the essential components of content marketing
• Developing and executing effective social media strategies that support business objectives
• Integrating social media advertising to boost reach and grow brand awareness
While this exhaustive course took a significant investment in time by Lorna and Rebecca, they feel the lessons they learned help them fine-tune our clients' social media strategies to deliver even better results. And as Rebecca pointed out, social media never sleeps, so why would we?
If your social media isn't performing to your expectation, now would be a great time to talk to Rebecca, Lorna and the rest of the Insight digital team. Naturally you can reach them through our Facebook or LinkedIn pages or just pick-up the phone and call us at 605-275-0011.
A big congratulation from the entire Insight team to Lorna and Rebecca for earning their Social Media Marketing certification.