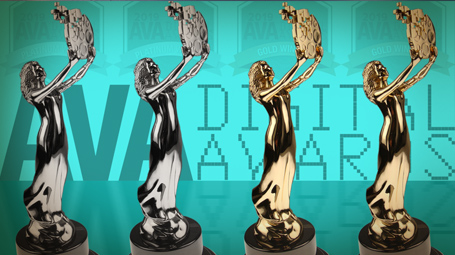 Insights:

Insight wins four national AVA Digital Awards
Insight Marketing Design was recently honored to receive four awards from the AVA Digital Awards show. Insight and our clients received two gold awards and two platinum awards in three different categories.
The AVA Digital Awards is a focused competition that recognizes creative excellence in digital communications that truly engages audiences. 
Platinum Award-Winning Website
In the website category, our team won a Platinum Award for Monk's House of Ale Repute. This site was designed to capture the feel of this well-known craft beer and brewpub. A unique feature of the site is the visual tap list that displays information about every keg that is tapped. The amount of beer left in each tap is shown in a glass that drains out as the tap is emptied. Each glass also shows the color of the beer that is poured. You can check out this unique site and other Monks marketing material here.

Gold Award-Winning Website
The next AVA winner in the website category was for Dorsey & Whitney Trust Company. This site was awarded a gold and features evocative imagery and content that captures their unique approach to financial management and the confidence their clients feel working with them. Click here to visit Dorsey & Whitney's gold winning website. 

Platinum Award-Winning Animation
The AVA awards are not just about websites. They celebrate creative excellence in all formats of digital communications. If you've spent any time online, then you know how important videos are to user experience. So when our client QualiTru Sampling Systems wanted to introduce a whole new product to the industry, we responded with an engaging 3D animation of their new TruDraw Single Sampler. This video created a splash for their product introduction and also garnered a Platinum Award for the AVA.

Gold Award-Winning Video
Continuing with digital videos, Insight also received a gold award for a heartfelt video created for Dakota Lions Sight & Health. This important organization prepares corneas and other tissue for transplantation. The work they do helps thousands of people to see. When we learned about their annual gathering of donor families and the recipients, we knew that their stories needed to be told by the people who experienced it. We spent multiple days at these special events recording the real emotions, thankfulness and appreciation that only a gift like tissue donation can create. Obviously, the AVA judges also saw the impact these stories can have when shared. Click here to see the videos and how powerful true stories can really be.
Our award-winning digital work provides just a few examples of how effective and engaging online communications can be. While technology is always advancing, the Insight team is committed to staying on the forefront of the possibilities this fluid medium provides.