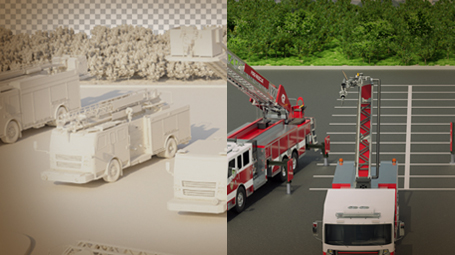 Insights:

We build fire trucks, too
Rosenbauer is the largest fire truck apparatus and emergency response vehicle manufacturer in the world. When a firehouse purchases a Rosenbauer America fire truck, they get the highest quality craftsmanship with a variety of heavy-duty, custom features.
Rosenbauer America asked Insight to showcase nine different fire trucks in one large-format photo.
We said, "We can do it." Then we learned there was no single location where all nine trucks were available and there weren't a lot of photos to use as references. We said, "We can still do it." And finally we found out about the quick deadline… long pause. We said, "We can still do it."
Insight's designers built digital, 3-dimensional stand-ins for each of the nine models, making sure every external feature was correct on each 3D digital model. Next, surfaces were added that would allow for the right amount of light reflections while keeping the signature Rosenbauer red color in tact.
Once all of the fire trucks were built, Insight's designers turned their attention to create the perfect setting. After discussions with the client to identify the ideal surroundings and location of the image, Insight's design team created a landscaped parking lot on a hilltop. Insight's executive creative director, Doug Moss, ended up placing this photorealistic illustration in his hometown of Cincinnati by using one of his own photos as the backdrop.
See some of the work we've done for Rosenbauer America on Insight's portfolio. If you'd like to test drive our creativity and production skills, give us a call and give us a challenge.