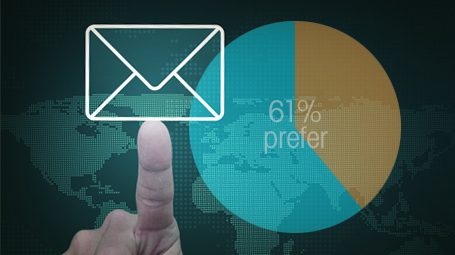 Insights:

5 simple ways to boost your email marketing
People like to buy from companies they know and trust. Naturally, building trust takes time. This makes email marketing a powerful and cost-effective tool for growing brand loyalty and encouraging repeat transactions. But before you can do any of that, you need to have an email list that lets you reach as much of your target market as possible.
Before we jump into to some easy ways to build an email list that will get results, a word of caution. That word(s) is the CAN-SPAM act. This federal law sets the rules for what businesses can and cannot email to consumers. Each separate email in violation can be subject to penalties up to $42,530. That's for each individual email so it's easy to imagine the major impact not being in compliance can bring. You can click here for the Federal Trade Commission's rules.
As long as you're in compliance, email marketing can be a smart addition to your marketing plan.
The key to being successful is providing your audience something they see value in. Providing a benefit to sign-up for emails is the ideal way to grow your list.
Now for the list of 5 ways to grow your email list:
1) Give something to get something – Providing a free item, information or discount to people who opt into your email list rewards them and you.
2) Everybody likes to win – Promoting contests with a prize is a quick way to get people's attention and their email address.
3) Everyone wants to be in the know – Create an email newsletter that is informative and interesting. Be sure to send it on a regular schedule to keep your audience engaged.
4) Don't discount discounts – Offer on-going exclusive discounts to those who sign up for your email list. Who doesn't want to save and be made to feel special?
5) Social Media outreach – It's all about community. A strategic social media marketing push will get people involved with your brand and will make them open to receiving more information from you.
These simple approaches to bolstering your email outreach are just a few examples of the many tactics smart marketers use to build brand relationships with consumers. If you'd like to learn more about becoming a regular presence in your customers' lives and inboxes, give us a call at 605-275-0011 or better yet, email us at [email protected]