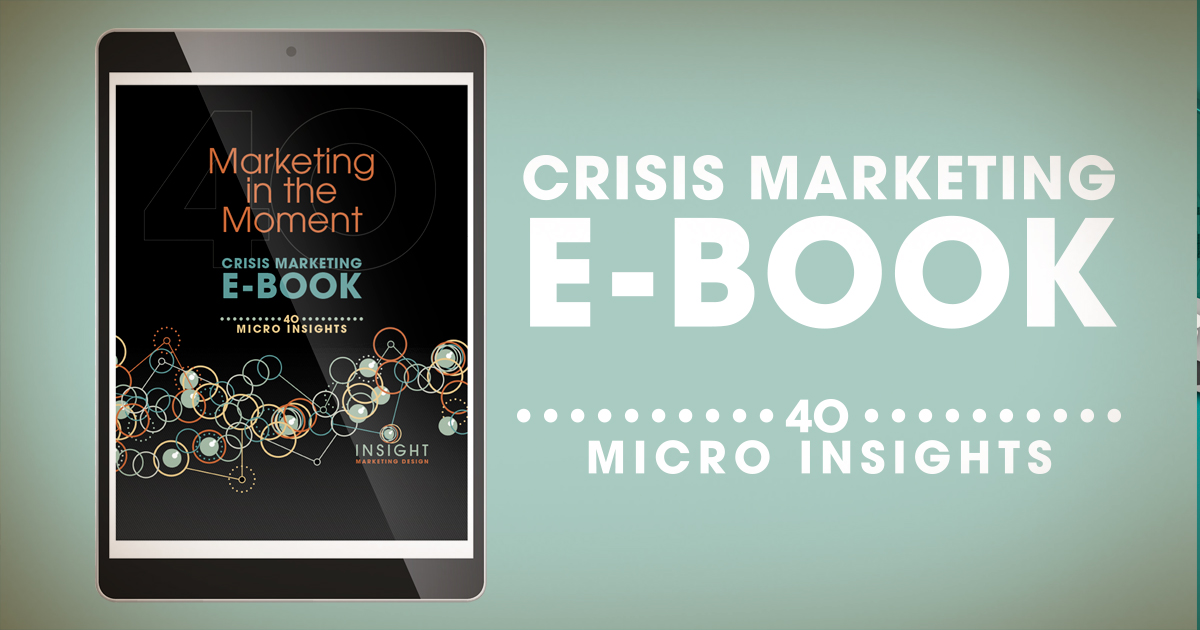 Insights:

Free Expanded Crisis Marketing eBook Now Available
As far as anniversaries go this one certainly isn't going to be celebrated with a big party. COVID-19 was first reported in the U.S. somewhere around late January or early February 2020. Since it invaded our shores, the business world as we know it has been turned upside down.
We at Insight Marketing Design quickly recognized that this pandemic was going to have marketers trying to figure out what to do to keep business moving forward.
The unique nature of this crisis meant there were no best practices to help make marketing decisions, but there were still proactive actions that could be taken.
To help our clients, and others, navigate the new market realities, we created a weekly email newsletter which ran for 40 weeks and provided quick, practical marketing tips that could be used during these uncertain times. We heard many stories of how businesses had utilized these tips to bolster sales and remain top-of-mind with their customers.
While we all hope the new vaccines will finally end the crisis, we also know that it will be a while before things return to "normal." This is why we have created an updated Marketing in the Moment Crisis Marketing eBook.
Insight Marketing Design's Marketing in the Moment book features 40 micro-insights focused on practical steps to marketing during the pandemic. The book can also be utilized for future challenges that may affect the marketplace.
You can download your free copy of Marketing in the Moment Crisis Marketing here.
One of the important lessons you'll learn in the book is the value of supporting your community and those in need during a crisis. In recognition of this fact, our agency has pledged to donate $1 dollar to Feeding South Dakota for every download of Marketing in the Moment Crisis Marketing.
If you have any questions about the tips shared in the book or would like to discuss additional solutions to marketing during a crisis, give us a call at 605-275-0011 or send us an email.
Here's hoping that we're truly close to the end of the pandemic that changed so much.